INTERMOT 2014 - The countdown has started
Views: 45 Author: Site Editor Publish Time: 2014-10-01 Origin: Site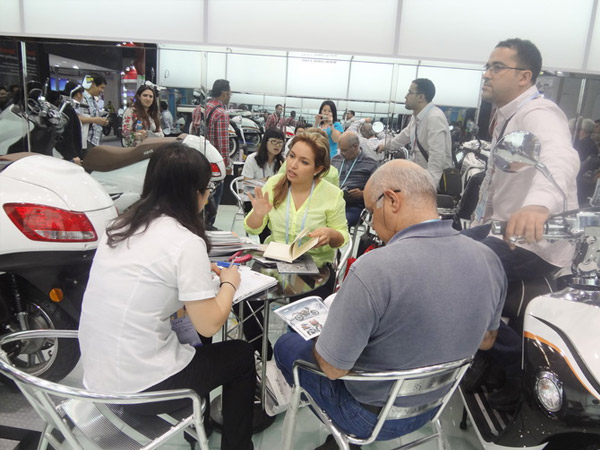 On 15th,April,the 115th Canton Fair was held as scheduled. The leading brand of Chinese scooter—ZNEN, presented a series products---scooters, motors and e-scooters. The exhibits express the concept of ultimate user experience, catching widespread concern, attracted a lot of International traders. ZNEN booth was the focus all the time during the fair. "Wonderful!" was heard from exhibitors who visited ZNEN booth.
Above 200,000 buyers attended the 115th Canton Fair, more than 114th Canton Fair as expected. Every hall was full all colors merchants, and people had to walked through the passage slowly. On ZNEN both(Hall13.1,F07-08,E38-39),merchants were here and there for business talks. Attractive products and ZNEN sales' professional service were the best highlight. Many buyers were very interested in ZNEN products, some even came directly to visit our factory during the fair.
ZNEN many times to be the spotlight
As reported, ZNEN Industry Group is the leading brand of Chinese scooter, and it is thriving in its field. This year it presented its patent new models---stable performance and humanized operation , being one of the most attractive booth on this fair. Even more critical is that we have to promote their own brands, when the industry will greatly accelerate the pace of autonomy, enabling quick access to the age of independent products.
Since ZNEN Industry Group registered its own brand, it won honors one after another--- foreign trade enterprises upgrade sample, A grade company for commodity inspection. national technical center etc.142 models are EEC approved, including 76 models reached the Euro Ⅲ standard,66 models reached the EuroⅡstandard. ZNEN is popular in the over 200 countries and more than 1,000 sale points all around the world.
Adjustment with the user experience
As the leader of scooter manufacturers, ZNEN pay much attention to adjusting the models with time and demands. From the exquisite REVIVAL series to elegant ZNEN Q series, world premiere LEGEND series, powerful ROAR and VISTA, mature A9\R8\F8\VES series, DBR\XT7\ FLASH2 motor series and the environment-friendly, energy saving good performance E-SCOOTER series.